Paul Reed, Caleb (Maki), and Dave > An eldest son, his youngest brother, and their dad find themselves in Greenville, South Carolina on Sunday May 28 awaiting some dual-sport Honda motorcycles to show up. But they're staying real busy dealing with helmet comm systems, drone procurement, GPS setup, helmet cams, art/sketch preps, suffering blog-ophobia, and appreciating sweet hospitality by brother Paul and wife Carol… …and waiting…   …waiting for Hondas… …They will come!
Meanwhile, back in Santa Barbara – where no cicadas are hummmmming and there are no fireworks supermarkets – middle son Cory is finishing his UCSB spring quarter. Besides, he wasn't really in the mood to go to all this bother … I mean, fun. And the Mom already sort of did this on the back of a BMW R80GS adventure bike, crossing the Sahara Desert twenty-8 years ago. Her photo from a 1994 Cycle World story is posted at lower left.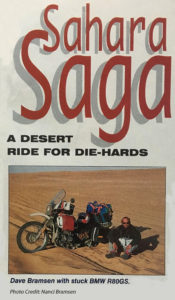 How did we get into this bother … I mean, AWESOME dad boy experience…?    Well, first off, our pal Aaron Baker and his dirt-biking family got our boys into the fun a few years ago. That gave them a platform. Simultaneously, our son Paul determined that the grueling demands of working through to a UC Berkeley computer science masters degree made his mind wander to antidotes like motorcycling somewhere. He discovered that it was possible to cross this great land on farm roads, forest trails, rocky single track, muddy creek crossings, fire roads: a unique dirt conjunction known as the Trans-America Trail. [At the mention of this great land: take a Memorial Day moment to ask God's blessings on those families whose members have sacrificed life for our liberty. Semper Fi.]
My motorcycling past said, "How can you not go with him?"  Logistics and finances said, "Are you nuts?"  I'd be barely nuts to miss a one-time-only experience with 2 of my favorite 3 sons. And Nanci is an amazing supportive good sport. Spare the details but it's HAPPENING! Along the way, Caleb got the vision, worked hard, sold his car, and he's our drone-master. Look for some cool aerial video in the coming days. Paul offers high-digit software engineer service. And I'll throw in some art. So it's a team!
The Cycle World story from '94 allowed me to connect with some great guys at a cycle magazine group. Look for postings at Motorcyclist Magazine's website. Updates to come. And that connection has led to the opportunity for some corporate Hondas…. yahoo! Some delivery and license plate glitches will be unglitched soon.  Have faith. More on that later.
"Have I not commanded you? Be strong and courageous. Do not be terrified; do not be discouraged, for the Lord your God will be with you wherever you go." Josh1:9. 
---
---
---