This blog post comes from the friendly abode of the boys' cousin/my niece, Heidi Wolf, her meat-smoking husband Wayne, and their 5 lightening-bug catching, potato-gun shooting, 5-string-guitar-picking, 10-foot-long-batman-cape-wearing, card-trick-showing kids in Franklin, Tennessee, 65 miles north of the TAT.
Greetings, friends of TAT Riders.
Lessons have been learned:
>You cannot be stress-free if you try to get down 100s of miles of roads AND spend 20 hours in a week producing blog and vid bits. We are adjusting with gratefulness.
>You should try to post something small each day. Boy; are we behind. More or less.
>This first week has been a time of rearrangement. We are shedding stuff (weight and volume) during our shower/laundry break (first in a 7+ days) here in the Wolf house. Bless their helpfulness.
>In heavy riding gear in high-humidity 90 degree F. on narrow seats for many hours: you're all day sticky-sweaty and your butt hurts but don't acknowledge the discomfort. We are loving the great scenery in this part of the country and the good times chatting over our Sena communicators while motoring together on machines that haven't missed a beat. Love the (3) sons. And my wife, doing good things at home.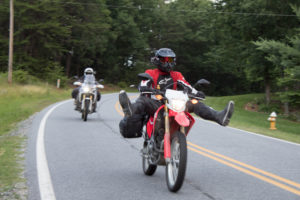 Now: Almost a week ago we found out what time this trip began when our boots touched Atlantic seawater. So, WHO ARE THE CONTEST WINNERS?!
>Losers: Anyone thinking a teenager would make it to the ocean awake before 9 a.m.
>4th runner-up: Cory Bramsen: "At the first light on the 5th day." (For the clueless: a LoTR reference)
>3rd runner-up: My brother (hmmm: also in Loser category), his guess was 143 minutes early.
>2nd runner up: Gaylene Colburn; her guess, just 23 minutes too soon.
>Austin Murdock's guess of 10:30 a.m. Monday June 5 was 20 minutes after our 10:10 a.m. start. Austin is one of Paul's computer security geek pals from UC Berkeley. He will receive a tee as well as an actual seashell from our departure beach and a diminutive "GOOD LUCK" crab and turtle from the Cape Hatteras Lighthouse souvenir shop, with a total retail value of $1.
In this past week we have progressed through North Carolina and Tennessee, observing that the primary pastime of southerners is mowing huge swaths of grass with their sit-down mowers. Not mowing your grass here is a sin equivalent to that in Santa Barbara of growing some (lawn grass, I mean). It is so dang tidy, even derelict trailers and collapsing barns look legit because they have neat grass.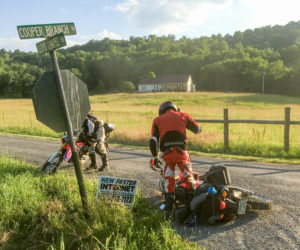 Our encounters with dirt are sandwiched between truly intriguing swoops through small town America. We find our way by following a trail of "breadcrumbs" indicated by a GPS path on a Garmin. And, on Paul's iPhone. My old touring days, of course, were ruled by printed maps. Now, there is the odd sensation of not knowing where you will turn next.
Zig zag your way from country road to country byway. Caleb, following our zigs, tells us on the intercom that he has no sense where we are going or if we are leading him in circles.
Yesterday (6/10 Fri) as I followed the boys towards a left turn from country road to country road, they suddenly both went down. The radius of that turn had a large swatch of sandy gravel, not so visible as they headed into the sun.
A few small bike scratches and everyone's ok. Adventure on!
"Let no one despise your youth, but be an example to the believers in word, in conduct, in love, in spirit, in faith, impurity." 1Tim4:12
---